Luke 12:32  "Do not be afraid, little flock, for your Father has been pleased to give you the kingdom.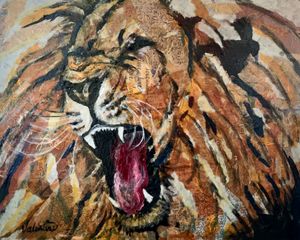 I created this mixed media piece at the start of the pandemic. I called it Fearless. It's my favorite piece of art so far. So much so that I kept the original.
It's hard to be fearless in the world we're living in now. There is so much for us to be afraid of. If we don't focus on God, the world will overwhelm us. 
A shepherd is a person who protects, guides, or watches over his flock. God calls us His flock. He is our shepherd.  He protects us! If we stay focused on Him, He will give us peace.  
That's not to say we will never be anxious or fearful. We are humans living in a fallen world. 
Psalm 56:3–4  When I am afraid, I put my trust in you. 
In God, whose word I praise, in God I trust; I shall not be afraid. What can flesh do to me? 
David said in this verse, "WHEN I am afraid." We have to recognize that fear is real. His next line is "I put my trust in you." When we feel afraid we have to shift our focus back to God. 
Have you ever heard someone say "what you focus on grows?" Let's let God grow in our hearts and minds rather than our fears. With His help, we too, can be fearless.
When I feel anxious or afraid I listen to Christian music. Give a listen to Fearless by Jasmine Murray.